WE ARE ADDING MORE LIVE FIRE CLASSES WEEKLY!

We are also booking limited One-on One Private Training.
Both live fire on the range and Dry Fire using SIRT laser training pistols
Each lesson is tailored to the needs of the student - from complete beginner to seasoned veteran.
We utilize both your gun and our SIRT laser training pistols and rifles.

We developed this curriculum in 2013 during the ammo shortage and it was VERY well received.
​
​Use the adjacent form to contact us and schedule your lesson!

NOTE: AS OF 1/1/21, WE HAVE REDUCED OUR ROUND COUNT IN CLASS BY APPROXIMATELY 35% UNTIL FURTHER NOTICE DUE TO AMMUNITION COST & AVAILABILITY. WE HAVE 9MM & 5.56 AMMO AVAILABLE FOR STUDENTS FOR CLASS!

---

---

Cajun Arms teaching style translates to all shooters (including beginners, men, women, and youth to experienced operators). Jim Benoit is a student of the gun, and his lesson plans are always evolving as he seeks the latest methods and techniques to enhance his defensive classes. Jim firmly believes there is no one single method that is right for everyone. He wants his students to not only learn solid technique, but to understand why the technique is effective for that particular individual.

We are NRA Certified Instructors in Certified Advanced Pistol, Rifle, Shotgun, Personal Protection Inside the Home, Personal Protection Outside the Home, Home Firearms Safety and are Chief Certified Range Safety Officers. We are fully insured.

---

Click on the links below for specific types of classes
---
---
Please call if you have a question! 610-399-1188
Remember, Cajun Arms offers private lessons - either one one or private groups. Corporate Team building events are extremely popular. We custom tailor the class to you specifically.We are always adding classes to the schedule. Check back frequently!
---
Tuition Deposit Policy
We typically fill our classes and turn students away as the class date nears. Be sure you can attend the class date for which you sign up. Should you become unable to attend a class, you can use your deposit for another class offered within one year of the original class date provided you give at least 72 hour notice to us. We will subtract any upfront costs we incur such as class materials from the deposit. Cancellations shorter than 72 hours and no shows forfeit their deposit. Thank you. NO REFUNDS.
---
Home-built Gun Policy
We do not allow the use of 80% home built firearms in our classes such as "Polymer 80" pistols and "80"lower" rifles or pistols. A general rule of thumb: if it does not have a serial number, do not bring it.
These guns have proven to be unreliable in class.
If you bring one to class, and do not have a back-up, or there is not a rental gun available, you will need to leave the class. No refund is given. Thank you for your cooperation.

---
ITAR
Tactical and Firearms TRAINING classes are covered under ITAR, and are thus restricted to US Citizens / Legal Residents.
---
US Law Shield
​We use and endorse US LawShield for our concealed carry insurance. When you carry, they have your back. Legal Defense for self-defense. Click below to sign up or for more info:
---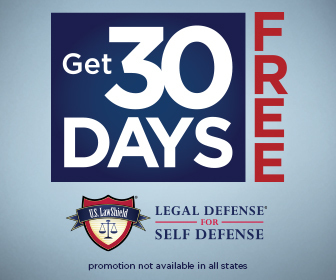 ---
Special Classes
Defensive Shotgun II
held at Northern Chester County Sportsman's Club - Elverson, PA
Description coming soon
Mid Range Rifle/Room Clearing & Teamwork
June 11, 2016 We are offering a special class at our range on the Tuscarora Mountain in Thompsontown, PA!
This curriculum will work you through close quarter engagement out to 200 yards using your carbine rifle and pistol. Much of the lesson plan will be based on military pre-deployment training. We will work on mid-level and higher end skills and tactics. Room clearing and team work, communication, complex problem solving and stress will all be covered. Get ready to flick your switch from defensive to offensive and learn how to win the fight! 6 hour course. $275. Only eight slots being offered! $140 deposit required to hold your seat. Limited overnight accommodations are available. Please inquire as to availability.
400 rifle and 200 pistol ammo will be required
Intro to Defensive Pistol/Carbine
held at Tuscarora Tactical Training - Thompsontown, PA
A 4 - 5 hour course by popular request. Lessons include: Safety Brief, Operation review of pistols & carbines, Pistol Instruction, Carbine Instruction, Transitions from Primary to Secondary, Shooting on the Move, Mag Changes, Concealment & Cover, And Shot Placement.
200 rounds of pistol & 300 rounds of rifle ammo required (Ammo is available at a discount to students. Please mention when registering)
Cost $200 includes range fee
Call or email Jim to register
610-399-1188
benoit@cajunarms.com
A 50% deposit is required to hold your slot
Classes are held regardless of weather
Low Light Pistol
held at Tuscarora Tactical Training - Thompsontown, PA
A 3 hour course building on the skills and mindset learned in previous classes. LOW LIGHT will teach the student to confidently operate a handgun in a violent situation, IN THE DARK. A truly unique opportunity to train with your handgun in a scenario that few other ranges and schools offer! This session is held completely on the range, starting with a lecture on flash light techniques, followed by memorable range session. After successful completion of this course, students will be prepared and confident to defend themselves and their families in the DARK!
200 rounds required
Call or email Jim to register
610-399-1188
benoit@cajunarms.com
A 50% deposit is required to hold your slot
Classes are held regardless of weather
Rental pistols and rifles available
Ammo will be available for students at LOW prices.
T3 has officially joined forces with Cajun Arms. T3 is the education division of the company!
Cajun Arms is your complete one stop shop for firearms, accessories, preparation gear and supplies AND training!!!
CAJUN ARMS & TUSCARORA TACTICAL TRAINING
WEST CHESTER, THOMPSONTOWN, PA
USA
610-399-1188
benoit@cajunarms.com